MH-53E Sea Dragon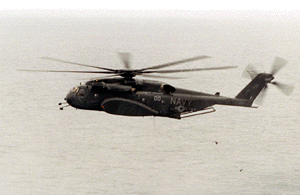 Description: The MH-53E is used primarily for Airborne Mine Countermeasures (AMCM), with a secondary mission of shipboard delivery.

Background: The MH-53E was derived from the CH-53E Super Stallion and is heavier and has a greater fuel capacity than its ancestor. The MH-53s can operate from carriers and other warships. Sea Dragon is capable of carrying up to 55 troops or a 16-ton payload 50 nautical miles or a 10-ton payload 500 nautical miles. The MH-53E is capable of towing a variety of mine-sweeping countermeasures systems, including the Mk 105 minesweeping sled, the AQS-14 side-scan sonar, and the Mk 103 mechanical minesweeping system.

General Characteristics
Contractor: Sikorsky Aircraft Division of United Technologies Corp.
Propulsion: Three General Electric T64-GE-416 turboshaft engines (4,380 shaft horsepower each)
Length:

Fuselage: 73 feet 4 inches (22.34 meters)

Overall: 99 feet (30.18 meters)
Height: 28 feet 4 inches (8.63 meters)
Weight: 21 tons (max gross) (18.9 metric tons)
Main Rotor Diameter: 72 feet 3 inches (21.7 meters)
Range: 1,120 nautical miles (1,289 statute miles, 1802 km)
Ceiling: 27,900 feet
Speed: 150 knots (172 miles per hour, 241 km per hour)
Crew: Two pilots, one to six aircrewman, depending on mission
Armament: None
Date deployed: 1983; replaced last of CH-53E in 1994.